By

MSI
MSI - Cyborg 15.6" 144hz Gaming Laptop
Regular price
$0.00
Sale price
$1,199.00
Unit price
per
Couldn't load pickup availability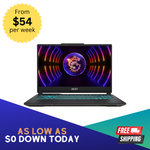 Regular price
$0.00
Sale price
$1,199.00
New / Core i7 / 8GB / 512GB / RTX 4060
Overview:
The MSI Cyborg 15.6" 144Hz Gaming Laptop is designed for gamers who demand high-performance hardware, a smooth gaming experience, and a visually immersive display. With its powerful components and high-refresh-rate screen, the Cyborg laptop offers a premium gaming experience for enthusiasts and competitive gamers alike.
Key Features:
Performance: The MSI Cyborg is equipped with powerful processors, ensuring smooth gameplay and responsiveness for both gaming and multitasking.

Graphics: The laptop features dedicated NVIDIA GeForce graphics, providing the necessary horsepower for rendering high-quality visuals and handling demanding games.

Display: The laptop boasts a 15.6-inch Full HD display with a high refresh rate of 144Hz. This high-refresh-rate screen ensures smoother gameplay by reducing motion blur and screen tearing.

Memory: With ample memory configurations, the laptop can handle multitasking, streaming, and gaming simultaneously without compromising performance.

Storage: The laptop offers fast SSD storage options, which contribute to quick boot times, application launches, and reduced loading times in games.

Keyboard: The laptop features a backlit keyboard with customizable RGB lighting, enhancing the gaming experience and allowing personalization.

Cooling: MSI's advanced cooling technology helps dissipate heat efficiently, maintaining optimal performance during extended gaming sessions.

Connectivity: The laptop comes equipped with various connectivity options, including USB ports, HDMI, and more, making it easy to connect peripherals and external displays.

Gaming Experience and Refresh Rate: The 144Hz refresh rate of the display contributes to a smoother and more responsive gaming experience, especially for fast-paced and competitive games.
Performance and Graphics: The combination of powerful processors and dedicated NVIDIA GeForce graphics ensures that the laptop can handle modern games at high settings, providing excellent visual quality.
Cooling and Sustained Performance: The advanced cooling system is crucial for maintaining optimal performance during extended gaming sessions, preventing overheating and performance throttling.
Personalization and Aesthetics: The customizable RGB lighting on the keyboard allows you to personalize the laptop's aesthetics and create an immersive gaming setup.
The MSI Cyborg 15.6" 144Hz Gaming Laptop is tailored for gamers who seek high performance, smooth gameplay, and an immersive display experience. Whether you're a competitive gamer or an enthusiast, this laptop's combination of powerful components, dedicated graphics, and high-refresh-rate screen make it an appealing choice for an elevated gaming experience.
Choosing a selection results in a full page refresh.