Regular price
$0.00
Sale price
$1,999.00
Unit price
per
Couldn't load pickup availability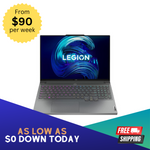 Regular price
$0.00
Sale price
$1,999.00
New / AMD Ryzen™ 7 6800H / 16GB / 1TB / Radeon RX 6700M
Overview:
The Lenovo Legion 7 16" Gaming Laptop is a flagship gaming laptop designed to offer top-tier gaming performance, cutting-edge technology, and premium features. With its powerful components, high-refresh-rate display, and advanced cooling, the Legion 7 is aimed at gamers and enthusiasts who demand the best gaming experience available.
Key Features:
Display: The laptop features a 16-inch high-refresh-rate display that provides an immersive gaming experience with smooth visuals and reduced motion blur. The high-resolution screen enhances image clarity and detail.

Performance: Equipped with the latest high-performance processors, such as Intel Core or AMD Ryzen processors, the Legion 7 delivers exceptional gaming performance, multitasking capabilities, and content creation power.

Graphics: The laptop is equipped with dedicated high-end NVIDIA GeForce graphics, ensuring exceptional gaming visuals and handling graphics-intensive tasks with ease.

Memory: With ample memory configurations, the laptop supports multitasking, running demanding applications, and switching between tasks seamlessly.

Storage: The Legion 7 offers fast SSD storage options, ensuring quick boot times, rapid application launches, and reduced loading times in games.

Cooling System: Lenovo's advanced cooling technology, often featuring multiple fans, heat pipes, and advanced thermal management, helps maintain optimal performance and prevent overheating during extended gaming sessions.

Customizable RGB Lighting: The laptop features customizable RGB lighting on the keyboard, chassis, and other areas, allowing for personalization and creating an immersive gaming setup.

Connectivity and Ports: The laptop offers a variety of connectivity options, including USB ports, Thunderbolt, HDMI, and more, facilitating connections to peripherals, external displays, and gaming accessories.

Premium Build and Design: The Legion 7 features a premium build with attention to design, materials, and aesthetics, making it stand out as a high-end gaming laptop.

Battery Life and Portability: While gaming laptops generally prioritize performance over battery life, the Legion 7 aims to provide a balance between gaming prowess and portability.

Gaming Performance and Experience: The combination of high-end processors, dedicated graphics, and high-refresh-rate display ensures an exceptional gaming experience with smooth frame rates, detailed visuals, and immersive gameplay.
Gaming and Creativity Performance: The Legion 7 excels not only in gaming but also in content creation, rendering, and multitasking, making it suitable for creative professionals who require a powerful and versatile laptop.
Cooling and Longevity: The advanced cooling system is crucial for sustaining peak performance during extended gaming or intensive tasks, ensuring longevity and consistent performance.
Customization and Aesthetics: The customizable RGB lighting adds a personal touch to the laptop's appearance, enhancing the gaming setup's atmosphere.
The Lenovo Legion 7 16" Gaming Laptop is designed to deliver a top-of-the-line gaming experience for enthusiasts who seek uncompromising performance, cutting-edge technology, and premium features. With its combination of powerful hardware, dedicated graphics, advanced cooling, and premium design, the Legion 7 is an excellent choice for gamers who want to experience gaming and creative tasks at their best.
Choosing a selection results in a full page refresh.