By

Alienware
2022 Alienware M17 R5 17.3" FHD 165Hz Gaming Laptop P50E003
Regular price
$0.00
Sale price
$1,399.00
Unit price
per
Couldn't load pickup availability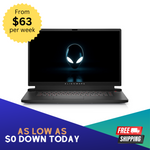 Regular price
$0.00
Sale price
$1,399.00
Certified Pre-Owned / Ryzen 7 6800H | 16GB RAM | 512GB SSD | AMD Radeon RX 6700M
Overview:
The 2022 Alienware M17 R5 17.3" FHD 165Hz Gaming Laptop (Model: P50E003) is a premium gaming laptop designed to deliver a high-performance gaming experience. With cutting-edge components, a fast refresh rate display, and Alienware's iconic design, this laptop is tailored for gamers who demand both power and aesthetics.
Key Features:
Display: Featuring a generous 17.3" Full HD display with a rapid 165Hz refresh rate, the laptop ensures smooth gameplay and reduced motion blur, enhancing the visual experience in fast-paced games.

Processor: Driven by powerful processors, the Alienware M17 R5 (P50E003) provides robust processing capabilities for gaming, content creation, and multitasking.

Graphics: Equipped with dedicated graphics, potentially including NVIDIA GeForce RTX GPUs, the laptop delivers stunning visuals, real-time ray tracing support, and the performance required for modern gaming titles.

Cooling: Leveraging Alienware's advanced thermal management technology, the laptop effectively dissipates heat during intensive gaming sessions, maintaining optimal performance while minimizing thermal throttling.

Memory: Ample RAM ensures smooth multitasking, quick application launches, and responsive performance in resource-intensive tasks.

Storage: The laptop offers high-speed SSD storage options that facilitate rapid game loading and efficient data access.

Design: Sporting Alienware's distinctive design language, the M17 R5 (P50E003) includes customizable RGB lighting, sharp lines, and premium materials, delivering a futuristic and eye-catching appearance.

Keyboard and Touchpad: The laptop features a comfortable keyboard with customizable lighting effects for personalization. The touchpad offers accurate navigation.

Audio: With advanced audio technology and premium speakers, the laptop provides immersive sound for gaming, entertainment, and communication.

Connectivity: The laptop offers multiple ports, including USB, HDMI, and Thunderbolt, ensuring versatile connectivity for peripherals and external displays.
Performance: The 2022 Alienware M17 R5 (P50E003) is engineered for outstanding gaming performance and the handling of demanding tasks. The combination of the high-refresh-rate display, powerful processors, and dedicated graphics guarantees seamless gameplay and efficient multitasking.
Software: Alienware's software suite allows you to personalize lighting effects, monitor system performance, and optimize thermal settings, enriching your gaming experience.
Battery Life: While gaming laptops often prioritize performance over battery life, the M17 R5 (P50E003) aims to offer reasonable battery life for day-to-day tasks and productivity when not gaming.
The 2022 Alienware M17 R5 17.3" FHD 165Hz Gaming Laptop (Model: P50E003) is a premium gaming laptop that fuses high-performance components, an ultra-responsive display, and Alienware's signature design. Built for gamers seeking immersive visuals and exceptional performance, this laptop promises a top-tier gaming experience that doesn't compromise on aesthetics.
Choosing a selection results in a full page refresh.